There are times in life when difficulties and issues arise, and you want and need to explore your thoughts. feelings, and specific problems. An experienced therapist can offer a quiet, safe and confidential setting to let you explore these concerns in an encouraging and unbiased way.
The primary methods that I use in treatment are a combination of Cognitive Behaviour Therapy (CBT) and mindfulness based therapy, both of which are highly effective, research driven and scientifically proven approaches.
The course of treatment is typically short-term (approximately 8-12 sessions), and people often enjoy rapid and enduring relief from their symptoms.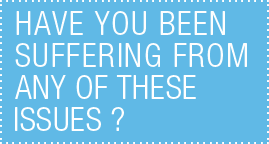 HIGH ANXIETY / STRESS
PANIC ATTACKS
DEPRESSION
ANGER
RELATIONSHIP PROBLEMS
PHOBIAS
WORRY
OBSESSION
COMPULSION
SOCIAL ANXIETY
LOW SELF-ESTEEM